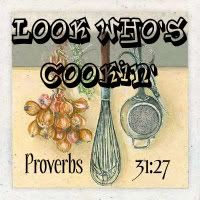 Not long ago, Moira from Look Who's Cookin' was here at Pebble Crossing as guest post with her first Sprouted Bread Recipe and Review Please visit here to view her first sprouted bread recipe. We really enjoyed your visit Moira!
Moira has since continued on with her review and has just recently posted her 3rd sprouted bread recipe and review at her blog Look Who's Cookin'. This is an ongoing series so if you are interested in the recipes and review series be sure to visit and follow Moira.
Moira is a devoted wife and mother who loves to prepare healthy meals using whole foods. You can find nutritional information on juicing, lacto-fermentation, sprouting and also eating clean biblical foods on her blog. If you have time, do read about how she learned to cook for her family here; it is a real encouragement to persevere.
Many blessings
Carmen